Dr Paudler Dental Care Team in Erfurt - well-practised, experienced and always helpful
Patients of all ages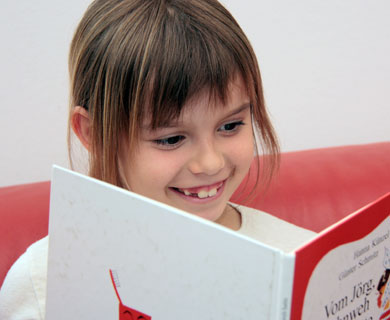 At the Paudler's patients contribute
Should patients collaborate at Dr Paudler Dental Care? - Exactly.
We would expect you to help us. Our aim is your comfortable and pain-free treatment as well as your long-term dental well-being. You contribution saves our effort and your money. What is the use of best prophylaxis and treatment without your collaboration?
Daily tooth hygene, regular check-ups, professional toothcare and more are much better than drilling or a dentist.
Our patients' home assignments
Regular tooth hygiene in the morning and in the evening and optimally after meals
Use of soft electric toothbrushes for tooth hygiene
The use of dental floss to brush between the teeth
Avoid products and beverages containing a large proportion of sugar, e.g. honey, Cola
Careful observance of the treatment plan
Dr Paudler Dental Care Team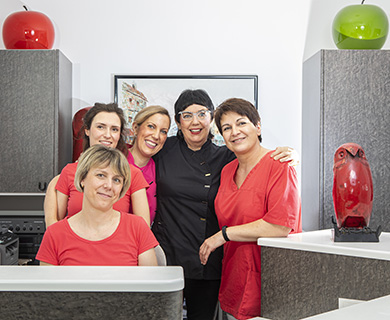 Dr Paudler Team - just the best
A well-practised and experienced team welcomes you at Dr Paudler Dental Care.
Dr Paudler Dental Care in Erfurt provides you with professional service from reliable and short-dated appointments without exhaustive waiting up to expert advice on dental and insurance issues.
Regular postgraduate training enables us to stay up-to-date in the world of dentistry.
Treatment - Spectrum from A to Z
An small extract
Prophylaxis – Prevention
Pediatric and pregnancy treatment
PTC, Orthodontia/ Braces / Guards
Restoration – conservative dentistry – aesthetics
Bleaching / Whitening, Veneers
Ceramic, titanium, golden fillings
Reconstruction - Prosthesis
Inlays, crowns, bridges, root treatment
Implants as well as Prostheses
Dentist Sabine Paudler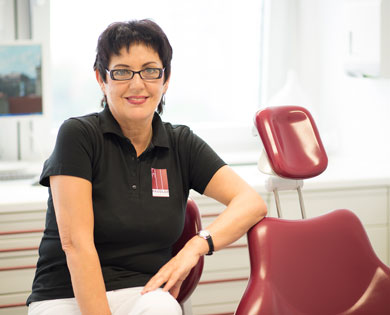 Dentist Sabine Paudler
Having received her medical liscence as a dentist, later in 1980 Sabine Paudler also obtained her degree in dentistry.
She has been a specialised dentist for general dentistry since 1986 and, thus, has around 30 years of practical experience.
A mother of several children and grandchildren - she is best familiar with the needs and concerns of children and adolescents. She is adapted to treatment of sensitive patients, such as children, dental phobes or mothers-to-be.
Treatment - Key Points
A brief overview
Parodontology
Prosthetics
General dental surgery
Pediatric dentistry
Dental Phobiacs
Relaxing therapy
High-quality dental restoration therapy
Splint therapy
Dentist Sebastian Paudler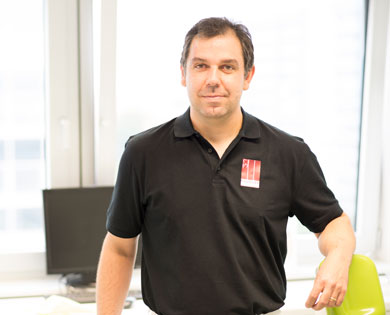 Dentist Sebastian Paudler
Before he began his dentistry studies in Marburg, Sebastian Paudler had first undertaken practical training in prosthetik dentistry.
As a dentist and a trained dental technician, he has additional experience which is eesential for successful treatment at the clinic.
His core treatment areas are implantology, endodontics, prosthetics and deneral dental surgery.
Physiotherapist Maria Paudler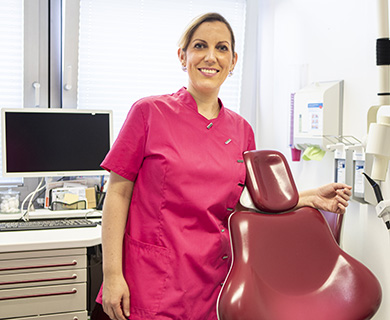 Physiotherapist MariaPaudler
Maria Paudler, a physiotherapist, is dedicated to the entire concept and complements the range of services provided at Dr Paudler Dental Care.
Neck- and backaches, night tooth-grinding or daily cracking primarily due to stress very often lead to headaches through jaw problems.
The jaw joint is a key joint and should be relaxed not only after serious interventions. Correct hand movements often solve all the problems in a short while.
Treatment - Key Points
Manual Therapy Jaw Joint in case of:
Accidents, diseases, disorders
Continuous one-sided loads
The treatment of:
Headaches and facial pains
Earaches / Ear noises (Tinitus)
Throat- / Neck- /Backaches
Spine and joint pains
Tooth-grinding in sleep, snoring
Chewing pains/cracking
Management Alexandra Steingrüber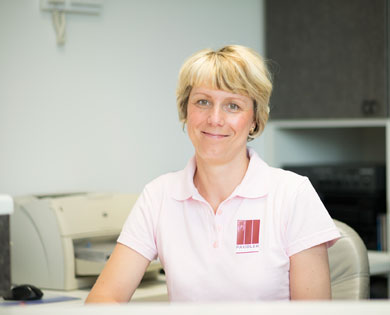 Management Alexandra Steingrüber
Nurse Alexandra, a qualified dental assistant (ZFA), plays a key role in the management of the clinic.
Any issue regarding a suitable appointment or insurance billing is of major concern to Dr Paudler Dental Care.
In addition, thanks to her experience she helps out with X-rays and prophylactics.
Affability at the front desk is your first step towards comfortable treatment.
Dental Care - Key Points
A small extract
Qualified dental assistance (ZFA)
Reception/Schedule management
Dental Assitant Jacqueline Enge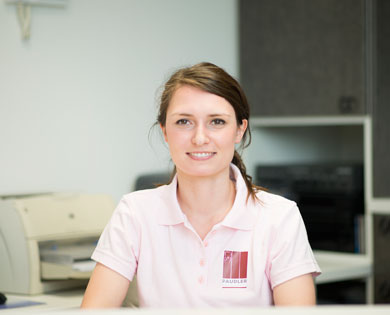 Dental Assitant Jacqueline Enge
Nurse Jacqueline is a qualified dental assistant (ZFA) and is in charge of chairside assistance.
One more task of hers is callback service for your quick questions.
Besides, nurse Jacqueline is responsible for sterilisation and hygienic state of the clinic.
In addition to X-rays, the supervision of our youngest patients is one of her major tasks.
Dental Care - Key Points
A small extract
Qualified dental assistance (ZFA)
Callback service for general dentistry questions and appointment shifts
In charge of sterilisation and hygiene of the clinic
Dental Assistant Susann Götze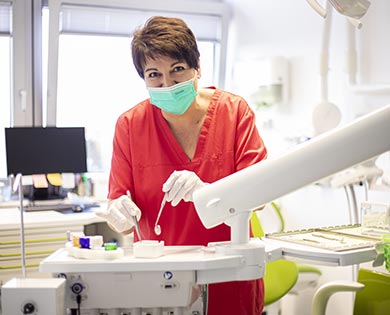 Dental Assistant Susann Götze
Nurse Susann is, as a member of our clinic, in charge of the professional tooth cleaning and all associated tasks.
A special service is her individual parent and chlidren consultation where the correct dental hygiene can be learned and trained easily.
The purpose of this consultation for children is to create an indivudual cleaning routine and to theach the use of this program in a comfortable enviroment together with the parents.
Dental Care - Key Points
A small extract
Qualified dental assistance (ZFA)
Professional tooth cleaning
Parent and child consultation
Clinic Dwellers Erfurt Owls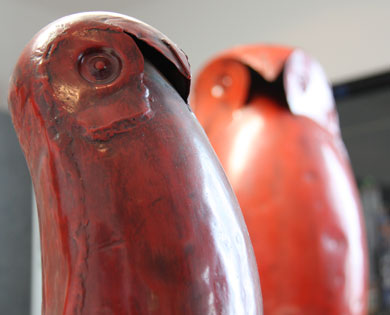 The elves of the clinic - Erfurt owls
Our Erfurt Tooth-Owls are known not only to our young patients.
Silent and upright -they are scrutinising our small and tall patients to assess how valiant they are. They are then happy to see a sign of relief, because it all turned out not that black as it had been painted.
As wise as their owls, Dr Paudler team are committed to providing perfect assistance through extensive knowledge and expertise. Owls are far-sighted - we too.
Dental Care - Key Points
A brief overview
Comfort of anxious patients
Taciturn and patient listeners
The elves of the tooth fairy
Shrewd control of daily tooth hygiene
Centrally located in Erfurt
The state capital of Erfurt is located in the middle of Thuringia, and the Paudler Dental Practice is located in the middle or Erfurt.
We are well connected to all modes of transport. Whether it be on foot, with the bus or train, or by car.
Our practice can be found in the centre of Erfurt across from Karstadt.
If you arrive by car, we recommend that you use the Parkhaus im Anger 1.
Dental practice with modern skills
In addition to the latest materials and methods, quality dental treatment requires a competent team.
Dentist and dental assistants alike require a solid background and continual professional development. Only in this way can the Paudler team remain on the cutting edge of technology and research.
This is complemented by extensive dialogue with our patients. This dialogue not only helps to ensure your current well-being but also in our constant efforts for improvement.
No wish is left unfulfilled
Opening times:
| | |
| --- | --- |
| Mo: | 8:00 - 12:00 am and 1:00 - 4:00 pm |
| Di: | 9:00 - 12:00 am and 2:00 - 6:00 pm |
| Mi: | 8:00 am - 1:00 pm |
| Do: | 9:00 - 12:00 am and 2:00 - 6:00 pm |
| Fr: | 8:00 am - 1:00 pm |
Appointment as desired
Telephone: 0361 - 2 25 26 26