Implants by the Paudler Dental Prctice - Your qualified partner in Erfurt
How does a implant treatment lapse?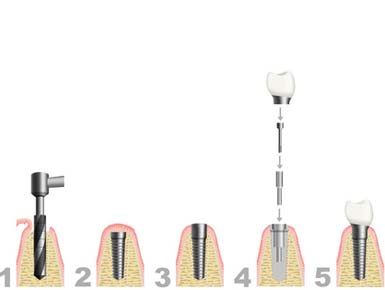 Process to the perfect implant
Each implant therapie at the Paudler Dental Practice follows five steps.
Wether there is only one tooth to be replaced or a broard treatment will be performed.
The duration of the treatment depends heavily from your individual situation, the nessecary pretreatment, and your personal desires.
Normally a treatment with implants will take severall months from the diagnosis to the integration of dentures.
Five steps of Implantology
The five steps of implant treatment are:
We would love to answer your questions concerning the implant treatment.
1. Diagnosis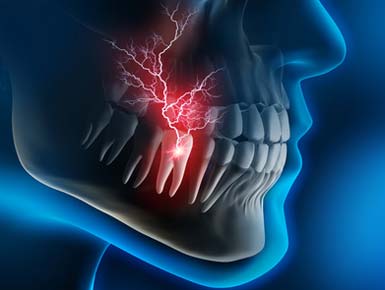 Evaluation of the initial situation
To find a suitable therapy we - the Paudler Dental Practice from Erfurt - will evaluate your initial situation.
For this single and panorama radioghraphs will be taken and models will be made. Furthermore special function tests will be conducted.
Radiaghraphs by cone beam computed tomographs (CBCT) or computed tomographs (CT) can be useful in single cases. Those support the dental diagnosis and make the induvidual case planning easier.
Planned success
As part of these examinations we will analyse alternating treatment options and plan our treatment strategy.
We will discuss those options step by step with you.
Fell free to ask abou advatages, disadvantages, and possible risks. We would love to explain in detail.
Together with you we will gauge which implant - solution is the right one for you.
Implants by the Paudler Dental Practice will enable you to get your bite back - whilst looking perfect.
2. Pretreatment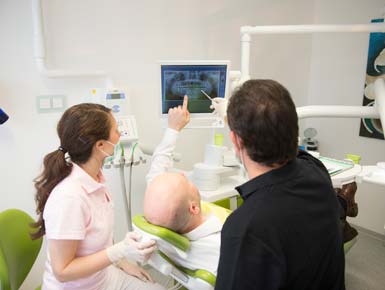 To a long-term Implant
A implant therapy by the Paudler Dental Practice is a high-quality treatment.
It conduces for a significantly better oral health and the long-term increase of your livability.
After you decided yourself for a implant treatment, pretreatments will be nessecary before the implantation itself.
Parts of that are for example the removal of caries or gingival crevices, orthodontic treatments or reconstructive measures for your jaw bone.
Apposite Implant - Therapy
The pretreatments serve the implant therapy to ensure long-term succsess. They are important to increase your oral health.
If there is not enough bone substance, reconstructive measures will be nessesary before the implantation.
By participating actevely during this phase you are able to concur success of the implant treatment.
The Team of the Paudler Dental Practice from Erfurt advise you early on.
3. Implantation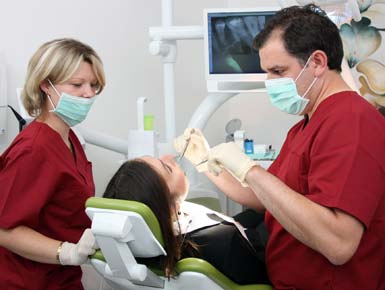 Reliable Procedure
Each year over one million dental implants are inserted in Germany alone.
Therefore it can be called a surgical routine.
The procedure will be conducted gently by using state of the art anestehtic and implantation methods in Erfurt.
The duration of the implant treatment can differ from case to case and depens heavily on the number of implants as well as the individual situation of our patients.
Implants and Restoring the Bone
At the first moment of the implantation a stabile connection to the bone is established. It is important that there is as much bone with a healthy supply of blood surrounding the implant.
In the frist weeks after implantation the cells of the bone will connect to the surface of the implant from all sides.
This process is called osseointegration.
The Paudler Dental Practice in Erfurt only uses high qualitiy implants from Camlog ©.
4. Integration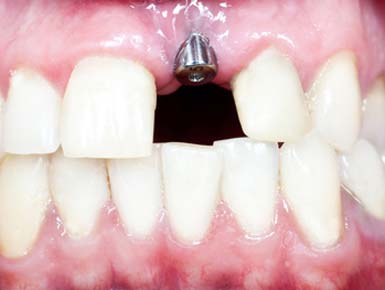 Implants aren´t made in a Day
After the implantation by the team of the Paudler Dental Practice, it takes several months until the bone cells have connected themselves with the dental implant and the implant is perfectly integrated.
If needed we can supply you a provisional solution. Meanwhile your new teeth will be manufactured exactly by a dental technician.
Intermediate steps might be necessary for a optimum in for and function of the treatment. We will inform you about that anytime.
Contolling the Function of the Implant
After controlling the function and the aesthetic quality the denture can be integrated. Now your new teeth are fully functional, can be stressed, and shown with pride.
Considering your wishes and your individual situation different options of forming your teeth on implants are possilbe.
Implant treatments contain the substitution of a single tooth, a dental bridge, or a whole row of teeth in your upper or lower jaw. Furthermore there are several options with different advantages and disadvantages to mount an implant in a toothless jaw.
5. Care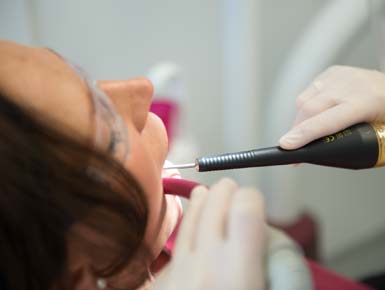 Take care of your dentures as if they were teeth
Implant treatments need, just like natural teeth, regular and torough care.
Because the implant is strongly integratet into the jaw bone, the care measures concentrate on the transient areas between the gum and the denture as well as the denture itself.
If the denture on the implants isn not taken care of sufficiently and plaque is not removed, gingivitis or gingival cevices might emerge. Because of that your implant is less protected and could suffer steady damage. Prevent this risk by taking care reguarly!
Professional tooth cleaning
Apart from the torough dental care by tooth brush and floss the professional tooth cleaning at the Paudler Dental Practice in Erfurt is the best investment durability of your implants.
Be consulted by our dental pratice about care, cleaning utilities and their correct use at the center of Erfurt.
The long-term succsess of your implants can be preserved by periodic appointments, so you will be able to enjoy your implant for a long time.
FAQ - Implant expertise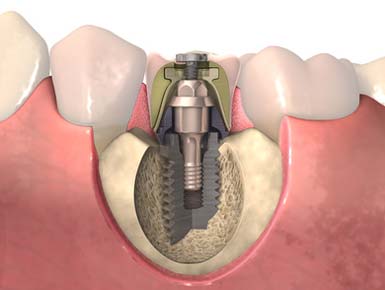 Reliable Implants
Therapies with implants by the Paudler Dental Practice are taking nature as a model.
We are able to recover your natural teeth completly and preserve or restore your personal chewing sensation as well as your natural charisma.
Since 30 years the usage of dental implants scientifically approved, field-tested a million times and is a reliable method of treatment.
Nevertheless many questionts may arise in the prozess of decision, wich we will explain here to a certain extent.
Dentist - Appointment
On our website we would like to answer some fequently asked questions. Please note that this will not compensate for an actual appointment.
But you will be better informed so you can ask more specific questions.
This will help you as well as ourselves to resolve open issues about the implant.
We are your specialist for implantology and provide you with profound implant expertise. We will show you the most fitting option of treatment.
How to deal with tooth loss?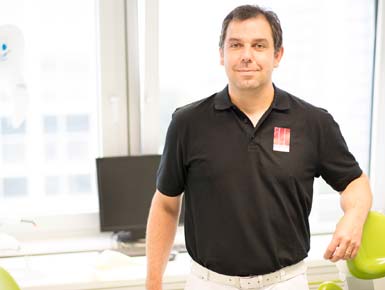 Teeth mean Livability
Because of an accident, an disease, caries, or parodontitis - there are many reasons wich can lead to the loss of teeth. Loss of teeth is painfull and can not be avoided in every case. Here in Erfurt are equipped with different options to close tooth spaces funtionally, aesthetically, and permanently.
Teeth have many functions. Chewing food, being able to speak clearly, preservation of the jaw bone, etc.... - Teeth are an esential part of a aesthetic countenance. Healthy and beautiful teeth equal livability and affect our whole self esteem as well as our demeanour.
Sebastian Paudler - your specialist
Like many other important aspects of life teeth will show their true value after they are lost.
Your dentist Sebastian Paudler in Erfurt is specialised in implantology and will determine all possible options of treatment together with you. Furthermore he will, while consulting your wishes, explain everything to you and will provide a suitable recommendation depending on your situation.
Sebastian Paudler is a spcialist for implantology and enacts as a traines denturist all the skills needed for your implant treatment. We will find a solution at the practice.
What are dental implants?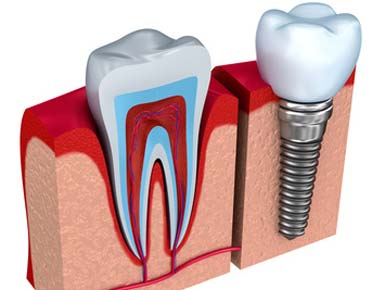 Implant & Jaw Bone
Dental implants are replacing the natural root of the teeth in from and function. The jaw bone accrues directly to the dental implant. Now a new, individually fabricated dental crown can be attached. This technique orientates itself on the perfection of the natural masticatory sytem.
A possitive side effect is that the dental implant trains the jaw bone. While chewing physiological stimuli are transferred into the bone.
This is just like the natural tooth and preserves the jaw bone.
No grinding of healthy teeth
Furthermore the dental implant carries the substitute dental crown - open spaces are thereby closed. With Implantology there is no need to grind the neighboring teeth, like it is necessary with conventional crowns. The natural dental substance of healthy neighboring teeth is unaffected.
Implants are made of pure Titanium with a special surface and will be perfectly fitted by our specialised dentist Sebastian Paudler in Erfurt. Dentures aided by implants patients at all ages are given the perfect alternative for restoring their full masticatory function and aesthetic harmony.
When are implants used?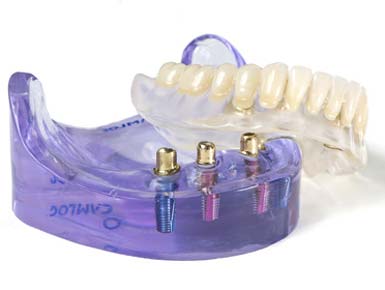 Protection of neighbouring Teeth
In many cases dental implants are the best solution to anchor dentures (crowns, bridges and protheses) safely and solidly in the long term. Implants are used if a single tooth, several, or all teeth are missing.
A key advantage in the treatment of tooth spaces is that healthy neighbouring teeth will not be affected.
In the procedure of the implantation treatment those teeth will neither be hurt nor grinded, wich would occur in a conventional treatment. The valuable natural dental substance is preserved.
Comfort for permanent Dental Protheses
Large tooth spaces and their treatment as well as the loss of all side teeth can be treated with the use of dental implantology. Therefore a permanent denture can be inserted.
Without this footing the denturist could only model a removable dental prothesis.
In many cases implants are used to stabalize a removable version.
This inceases the comfort while wearing the prothesis because it gains a strong footing.
Is an implantation a routine procedure?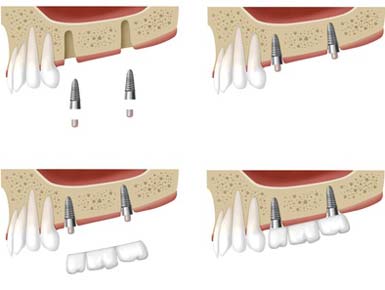 Implantology - Experience for 30 years
Dental implants, as they are used today, have been in existance for more than 30 years. They serve as permanent footings for different dental treatments, from dental crowns to bridges.
Dental implantology has been scientifically approved by the german association of dentistry, stomatology, and orthodontics (DGZMK) in 1982.
The science of implantology is continiously researching the topics of ideal texture of the implants, optimal accommondatig surfaces, as well as gentle methods of implantation.
95 - 98 % - Dependability of our Imlants
Today dental implants are the subject of international scientific research. High success rates are proven by long-term studies. Over one million dental implants are inserted solely in germany each year.
Studies of german universities have shown that 96 to 98 percent of the Camlog© implants are still functioning after ten years. Becuase of that the Paudler dental practice uses those implants for your well-being.
This success is reflectet in our practice. Implants are inserted frequently and from different initial situations.
Dental implants - the best alternative?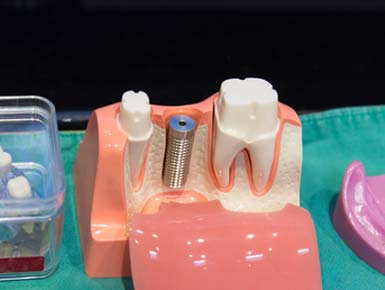 Replaceing your teeth with same function
Whyerver one looses teeth, he wishes for a very good replacement.
The natural appearance and the same function of the natural dentition should be restored.
If a single tooth is lost, the resulting space can be closed by a implant with a fitting suprerstructure and mounted dental crown.
For this healthy teeth are neither needed to be affected nor grinded irreversibly. The Paudler Dental Practice from Erfurt preserves and pretects your teeth.
Speaking, laughing, eating, and kissing
Conventional partial and full dentures are regularly felt as foreign objects. Aside from pressure marks they restrict your sense of taste, touch, and temperature. Furthermore they are a disturbance while speaking, laughing, eating, and kissing.
Dental implants can provide a remedy because treatments by using dental implant are replacing the dental root. This serves to preserve the jaw bone, which is the base of the entire dentition. Because of this dental implants are an outstanding option to replace lost teeth as well as restore your apperance, charisma, and well-being.
Does a dental implant pay off?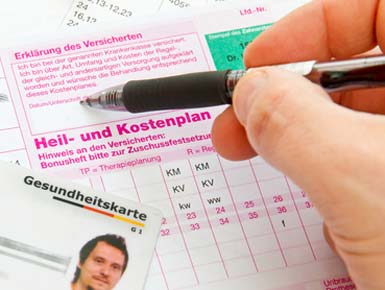 Implants are long-term companions
Dental implants are a long-term investment in your health and livability. If thea are taken care of, they will last for a lifetime and will be your daily companion.
At 365 days a year they will do their work effectivly, realiably, and unnoticed. Your ability to chew will be restored completly by a dental implant.
Dental implants preserve the jaw bone, which without an implant would form back. After tooth loss dental implants are the only "real" and "completete" denture.
We will advise you about grants of your medical insurance.
Unaffordable livability - affordable
The cost of a treatment with implants consist of the fees for the surgical, dental, and denturistical services. They depend on the effort and the extent of the treatment.
Very often dental implants are not very expensive, if the price is converted to the long-term wearing. An implant can be more reasonable than a treatment with dental bridges.
The value of your livability an preservation of natural structures provided by dental implants are of great value. Please compare the costs and long-term profits with other options.
Dental implants made in Germany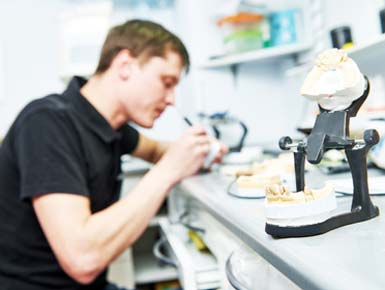 CAMLOG - made in Germany
Of course! And the Paudler Dental Practice from Erfurt is using them. Our medical device manufacturer Camlog© is the leading manufacturer of dental implants.
A special fokus is placed on the processing of body suitable materials, achieving outstanding manufacturing qualities, as well as conducting gapless product controls to secure patients, dentists, surgeons, dental professionals, and denturists. The Medical Devices Act puts high requirements on safety and functionality of medical devices.
Certification ISO 9001 and ISO 13485
Furthermore CAMLOG© promises only to develop and produce products, which are state of the art and comply with the scientific research as well as the relevant standards of medical technology. This principle was acknowledged by the successfull certification of our quality management system to ISO 9001 and ISO 13485. In addition the high product quality is proven by the CE marking. All products are produced in Wimsheim, Gemany by qualified professionals. Camlog© and Conelog© implants are made of pure titanium. This is very strong and posesses a high body suitablility, the so called biocampatility.
Centrally located in Erfurt
We are well connected to all modes of transport. Whether it be on foot, with the bus or train, or by car. The Paudler Dental Practice can always be quickly reached.
The state capital of Erfurt is located in the middle of Thuringia, and the Paudler Dental Practice is located in the middle or Erfurt.
Because of its central location, after your appointment, you can enjoy a stroll through the scenic part of Erfurt.
Dental practice with modern skills
In addition to the latest materials and methods, quality dental treatment requires a competent team.
Dentist and dental assistants alike require a solid background and continual professional development. Only in this way can the Paudler team remain on the cutting edge of technology and research.
This is complemented by extensive dialogue with our patients. This dialogue not only helps to ensure your current well-being but also in our constant efforts for improvement.
No wish is left unfulfilled
Opening times:
| | |
| --- | --- |
| Mo: | 8:00 - 12:00 am and 1:00 - 4:00 pm |
| Di: | 9:00 - 12:00 am and 2:00 - 6:00 pm |
| Mi: | 8:00 am - 1:00 pm |
| Do: | 9:00 - 12:00 am and 2:00 - 6:00 pm |
| Fr: | 8:00 am - 1:00 pm |
Appointment as desired
Telephone: 0361 - 2 25 26 26