The treatment spectrum of the Paudler Dental Practice is designed holistically
Prevention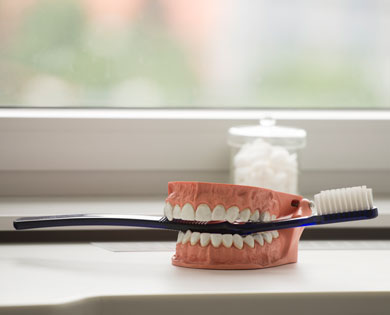 What does prevention/prophylaxis entail?
Prophylaxis/prevention means just that.
Prevention is always better, less painful, and less expensive than acute treatment upon the appearance of toothaches.
Many dental problems can be avoided with good oral hygiene e.g. regular brushing and limiting sugary foods.
Diseases resulting from dental problems can thereby also be prevented.
Treatment for permanent teeth
An small extract:
Prevention of cavities and periodontitis through the removal of tartar and plaque
Instruction of proper brushing techniques
Professional tooth cleaning using ultra-sonic and AIR-flow techniques
Tooth sealants / fluoride treatment
Professional tooth cleaning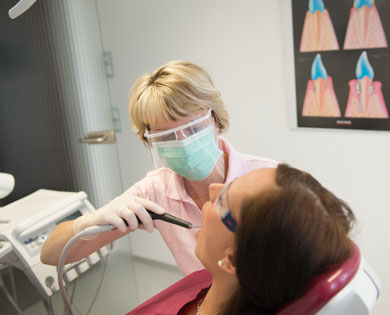 Professional dental care
Professional tooth cleaning complements your personal dental care through the use of modern equipment and procedures.
Even if you regularly and thoroughly brush your teeth, the accumulation of stubborn plaque is inevitable.
Plaque must be regularly removed in order to promote good oral hygiene.
You teeth will remain protected against dental problems such as tooth decay.
Tooth whitening
The bleaching of teeth should not be rushed. A slow treatment will project your teach. For example, we use:
Manual and mechanical cleaning of surface of the teeth and in between
Ultrasound cleaning
Removal of tartar
Removal of stubborn plaque with AIR FLOW
Fluoridation of the teeth
Splint therapy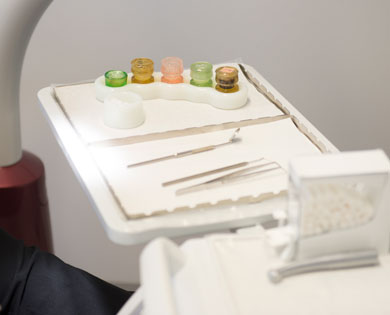 Splint therapy - prevent grinding of teeth
Stress is currently a huge problem. Your teeth also experience stress.Especially at night stress is released throughout the entire body. While some muscles relax, others tense.
In particular, the teeth suffer from the cramping of the oral muscles, which is manifested in the grinding of the teeth.
The does not only lead to severe tooth wear but also hypersensitivity of the teeth, headaches, and problems with the muscles of the head and neck.
Treatments - focusses
By wearing a splint at night, grinding of the teeth is substantially reduced.
Your teeth and jaw - not to mention your partner - will thank you.
Bit control of the upper and lower jaw
Measurement of individual dental splints
Manual treatment of TMJ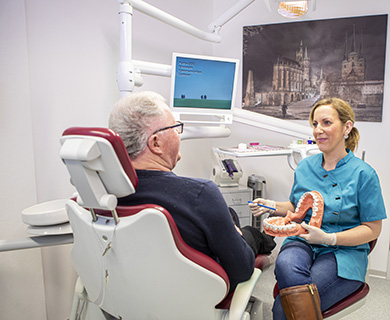 TMJ dysfunction
The treatment of TMJ dysfunctions is a part of the holistic treatment at the Paudler Dental Practice in Erfurt.
Neck and back pain as well as nocturnal grinding and daily cracking of the teeth often lead to jaw problems, which, in turn, can lead to headaches and migraines.
The TMJ is a key muscle and should not only be relaxed after major interventions. With the right treatment, old problems can be resolved in a short time.
Treatments - focusses
Manual TMJ treatment in the case of:
Accidents, diseases, and disorders
Regular unilateral loads
For the treatment of:
Kopfschmerzen im Kiefer- / Gesichtsbereich
Ear pain/ringing in the ears (tinitus)
Headaches in the jaw/facial area
Back and neck pain
Restoration = tooth preservation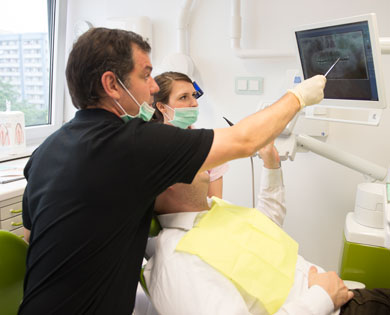 Dental aesthetics and the protection of teeth
We aim to protect the adult teeth so that they remain healthy and beautiful for as long as possible.
For treating toothaches, we use the following approach: as good as possible but only as much as necessary. Because nothing is better than keeping your own teeth.
We can restore your teeth. This entails a restoration of your chewing systems from the gums to the teeth.
Beautiful and healthy teeth with few fillings are the result of constant and gentle dental care.
Treatment - focusses
An small extract
Regular diagnoses and check-ups of individual treatments
Periodontology for healthy gums
Whitening for teeth nice and clean teeth
Preservation of teeth through minimal fillings
Root canal treatment instead of tooth replacement
Inlays, ceramics, composites
Periodontology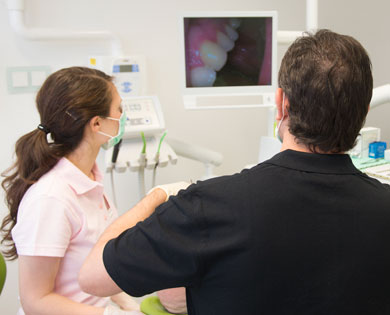 What is periodontitis?
Periodontitis, also known as periodontal disease, is an acute or chronic inflammation of the gums or the gums (periodontium).
The tooth is not unhealthy but rather the tissue around the tooth. Next to cavities, periodontitis is a major reason for the premature loss of teeth.
Gum disease also has a negative effect on the entire body. In addition to dental problems, it also leads to an increased risk for heart attacks and stroke.
Treatments - focusses
In order to treat periodontitis, the causes must be eliminated.
Removal of tartar and plaque
In the case of small pockets in the gums, non-surgical treatments with antibiotics are used
For larger pockets, surgical treatment of the gums is required
Restorative treatment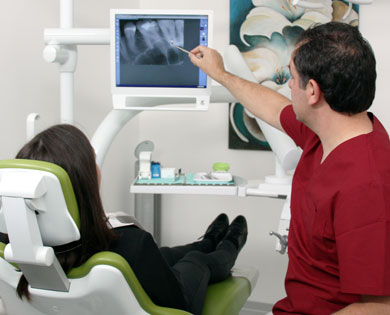 Maintain your teeth in a healthy condition
Restorative treatment (i.e. fillings) aims to eliminate cavities and other tooth defects and offer long-term protection.
Cavities can appear in areas of high activity or stress In addition to chewing, deposits also play a role.
Typical areas are pits and fissures on the surface of the teeth as well as the molars.
There are several approaches to filling. However, not all are covered by health insurance.
Treatments - focusses
An small extract:
Protection of the under-filling and promotion of dentin regeneration with medication
Plastic filling materials such as composites, compomers, glass ionomer cements, or gold
Careful follow-up treatment
Root canal treatment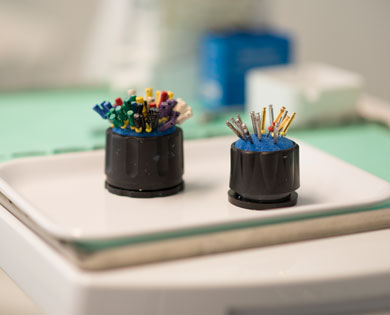 Root canal treatment - endodontics
Root canal treatment is a promising alternative to pulling teeth!
The bacterial infection found in the interior of the root can be removed manually or by machine until the inflammation subsides.
After several treatments, the root of the tooth will be filled with a bacteria-tight material.
Treatments - focusses
Tooth replacement includes the following issues, which we would like to explain to you in detail.
Analysis/detection of the affected tooth and its sensitive roots
Exposure of the root canal
Use of medication to calm the nerves of the root
Closure of the root canal with a suitable restorative treatment
Reconstruction = dental prosthesis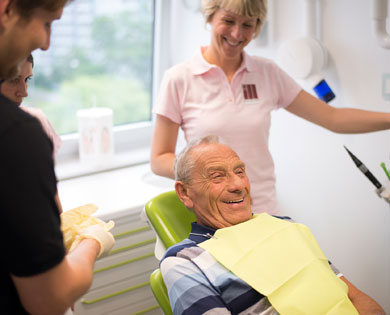 The first choice for tooth replacement
Despite the best care, tooth replacement or dentures may be unavoidable during old age. However, a high quality of life is still possible.
Tooth replacement may only involve a simple crown and is not always equated with a removable prosthesis or dentures.
Modern procedures in implantology allow for the highest level of chewing quality. Implants with minimal surgical intervention are also not visible recognisable as tooth replacements. We would be happy to advise you.
Tooth replacement treatment
Tooth replacement includes the following issues, which we would like to explain to you in detail.
Fixed prostheses
Removable prostheses
What are dental implants?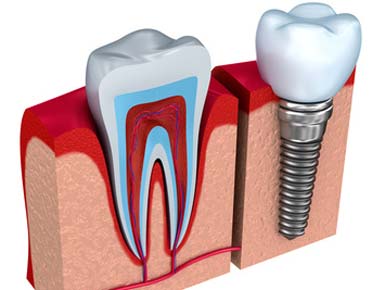 Implant & jaw bone
Dental implants are replacing the natural root of the teeth in from and function. The jaw bone accrues directly to the dental implant. Now a new, individually fabricated dental crown can be attached. This technique orientates itself on the perfection of the natural masticatory sytem.
A possitive side effect is that the dental implant trains the jaw bone. While chewing physiological stimuli are transferred into the bone.
This is just like the natural tooth and preserves the jaw bone.
No grinding of healthy teeth
Furthermore the dental implant carries the substitute dental crown - open spaces are thereby closed. With Implantology there is no need to grind the neighboring teeth, like it is necessary with conventional crowns. The natural dental substance of healthy neighboring teeth is unaffected.
Implants are made of pure Titanium with a special surface and will be perfectly fitted by our specialised dentist Sebastian Paudler in Erfurt. Dentures aided by implants patients at all ages are given the perfect alternative for restoring their full masticatory function and aesthetic harmony.
Special patient groups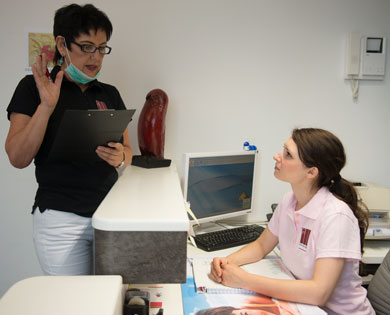 Each patient is different…
Not all patients are relaxed when they visit the dentist. There are also situations that require special dental treatment or care.
During pregnancy, the body is particularly stressed. Children would rather play than go to the dentist. Differently-abled people rethink each stressful situation. Patients with anxiety only visit the dentist if they have no other choice.
The Paudler team is prepared for every situation.
Special treatments
Patients who need special treatment include:
Differently-abled patients
Treatment during pregnancy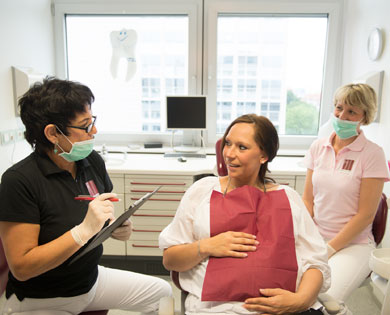 Does pregnancy require extra treatment?
Pregnancy is a special challenge. The teeth are under particular stress during this time.
Cavities and periodontal disease occur with greater frequency. Special hormones promote bacterial growth in the mouth.
During pregnancy, many diseases can be transferred to the child. Therefore, more attention should be given to oral hygiene and dental treatment.
Treatment for pregnant women
During pregnancy, the causes of tooth decay and pregnancy must be quickly eliminated.
Removal of tartar and plaque
For pockets in the gums, non-surgical treatments with pregnancy-friendly antibiotics
Paediatric treatment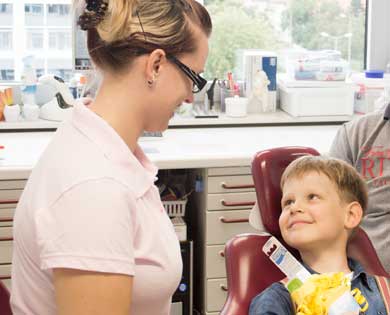 Children are not just small patients?
Children are more than just miniature versions of adults. A better understanding with the dentist and dental issues is required.
This means more time and patience as well as a more prudent treatment. Unfortunately, many children have an innate fear of dentists.
However, if children learn how to properly brush their teeth and visit the dentist regularly, there should be no reason to fear the dentist. Minimal appliances can help the adult teeth to grow correctly.
Treatment for children
Treatment of children includes the natural preservation of the baby teeth. If they are lost too early, this can have long-term consequences.
Instruction in oral hygiene
Check-ups with colour indicators
Tooth/fissure sealants, fluoride treatment
Patients in wheelchairs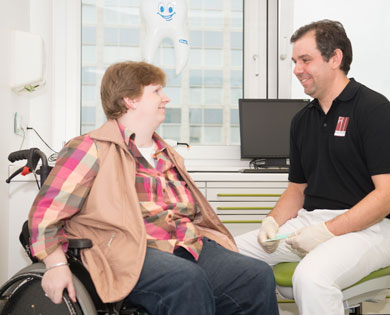 Dental treatment for differently-abled patients
The needs of differently-able patients must be taken into account. The team at Paudler Dental Practice in Erfurt has been specially trained to deal with such patients.
Thanks to the ground-floor lift, wheelchair users can easily access the dental practice. The Paudler Practice is directly approachable.
Because the special training and experience of the team, differently-abled patients can be readily treated. Even in the daily care at home.
Special service
An small extract
Access for differently-abled patients
Special advice on cures and auxiliaries
Help with self-help for daily care
Slow and understandable treatment
Adjustment of prosthesis aimed at differently-abled patients
If you have any question cencerning you disability that we should know about before treating you, we would be pleased to help you out.
Gerodontology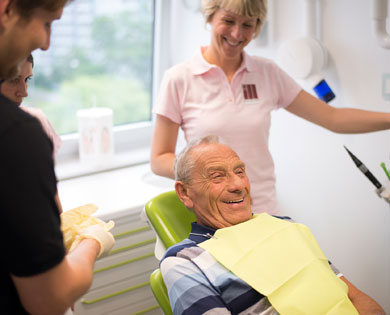 Prevention up until old age
Good oral heath is also a prerequisite for well-being and a good quality of life for older patients. The Paudler Practice is therefore particular dedicated to the dental treatment of senior citizens.
The healing processes are generally slower than they were during youth. Dental treatment should therefore be approached with caution.
Using a preventative approach, with regular care and check-ups, you will experience minimal symptoms and will only require infrequent dental treatments. We will help you find the most suitable solution.
Treatment - focusses
An small extract
Age-appropriate dental treatment
Detailed advice on remedies and aids
Help with self-help for daily care
Slow and understandable treatment
Age-appropriate adjustment of prostheses
Patients with anxiety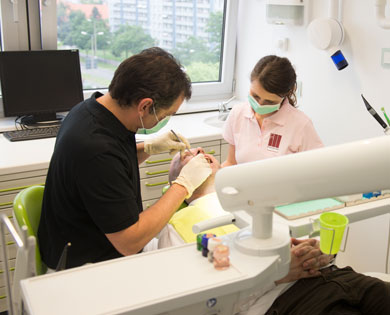 Anxiety free dental treatment
We take the anxieties of our patients seriously. When our patients are able to laugh about their unnecessary fears, we know that our job is done.
We thoroughly explain the individual treatment steps so that patient will have a clear idea. Nobody likes to enter dental treatment blindly.
Various anaesthetics guarantee a pain-free dental treatment. Painkillers are also prescribed in order to minimise the pain in the days following treatment.
Practice - focusses
All dental treatments are possible because with the proper analgesia, you will hardly feel a thing.
Detailed advice on treatments and possible alternatives
Regular check-ups and minor treatments instead of waiting for a major problem to arise
Slow and gradual dental treatment
Centrally located in Erfurt
The state capital of Erfurt is located in the middle of Thuringia, and the Paudler Dental Practice is located in the middle or Erfurt.
We are well connected to all modes of transport. Whether it be on foot, with the bus or train, or by car.
The Paudler Dental Practice can always be quickly reached.
Because of its central location, after your appointment, you can enjoy a stroll through the scenic part of Erfurt.
Dental practice with modern skills
In addition to the latest materials and methods, quality dental treatment requires a competent team.
Dentist and dental assistants alike require a solid background and continual professional development. Only in this way can the Paudler team remain on the cutting edge of technology and research.
This is complemented by extensive dialogue with our patients. This dialogue not only helps to ensure your current well-being but also in our constant efforts for improvement.
No wish is left unfulfilled
Opening times:
| | |
| --- | --- |
| Mo: | 8:00 - 12:00 am and 1:00 - 4:00 pm |
| Di: | 9:00 - 12:00 am and 2:00 - 6:00 pm |
| Mi: | 8:00 am - 1:00 pm |
| Do: | 9:00 - 12:00 am and 2:00 - 6:00 pm |
| Fr: | 8:00 am - 1:00 pm |
Appointment as desired
Telephone: 0361 - 2 25 26 26