Sabine and Sebastian Paudler from the Paudler Dental Practice in Erfurt are on top of things
Contact to the Paudler Dental Practice
The Paudler Dental Practice
Krämpferstr. 6
99084 Erfurt
Telephone:
0361 225 26 26
Telefax:
0361 654 93 55
E-Mail:
paudler[aet]zap-p.de
WEB:
www.zahnarzt-erfurt-praxis.de
www.zap-p.de
Centrally located in Erfurt
The Paudler Dental Practice is located "am Anger" in the centre of Erfurt and is well connected.
There is a parking garage directly opposite, there is a tram stop just three minutes away, and a taxi will bring you right to the front door.
A lift allows for easy access, and the practice is well signposted.
Because of its central location, after your appointment, you can enjoy a stroll through the scenic part of Erfurt.
Ärztehaus am Anger - The Paudler Practice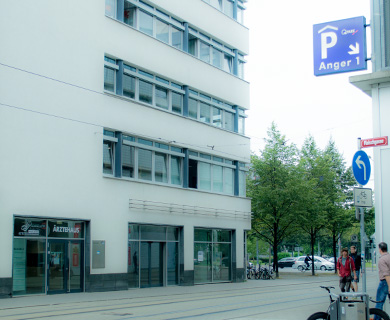 No wish is left unfulfilled
Opening times:
| | |
| --- | --- |
| Mo: | 8:00 - 12:00 am and 1:00 - 4:00 pm |
| Di: | 9:00 - 12:00 am and 2:00 - 6:00 pm |
| Mi: | 8:00 am - 1:00 pm |
| Do: | 9:00 - 12:00 am and 2:00 - 6:00 pm |
| Fr: | 8:00 am - 1:00 pm |
Appointment as desired
Telephone: 0361 - 2 25 26 26